Best Electric Fondue Set, A Valentine's Day Find
If you're planning a Valentine's Day party with family and friends or a romantic party for two – an electric Fondue set can be a perfect way to celebrate the occasion!
Depending on your budget and who you are buying for this would also make for a lovely present!
There are several types of fondue sets but right now we want to focus on the best electric fondue set and we happen to think the Trudeau Electric Fondue Set is one of them.
Why We Love It
Here are a few reasons why we love this set:
It's cute and modern design is pleasing to eye. Now, because it's red doesn't necessarily mean it has to be used only for Valentine's day obviously. However, we are creeping up to Valentine's day and if you're like me and like to colour coordinate your parties, the fact that this is red it's perfect for the occasion!
It's small so it's easy enough to store away. Personally, I steer clear of any appliances or products that take up too much counter space.  If you lean more toward the minimalistic side of things you'll be much happier with a purchase you can fit in your cupboard.
It's stainless steel so it's easy to clean! What more can we say about that.
It's a great brand.  Trudeau Products are a leading brand in the industry and has great reviews.
Where Can I Find It?
Price: $150-$170 dollars is the average price.
Best Sale Price: $83.50
Cheapest place to buy: Amazon Currently  has the best price but can change at a moments notice.
Your Heart Is Big But Not Your Wallet
If you're looking for something that is just as cute but easier on your budget here are a few other options:
Nutirchef Electric Fondue Set:  This is another leading brand so the quality will be worth the money.  This is also easy to clean and compact for easy storage.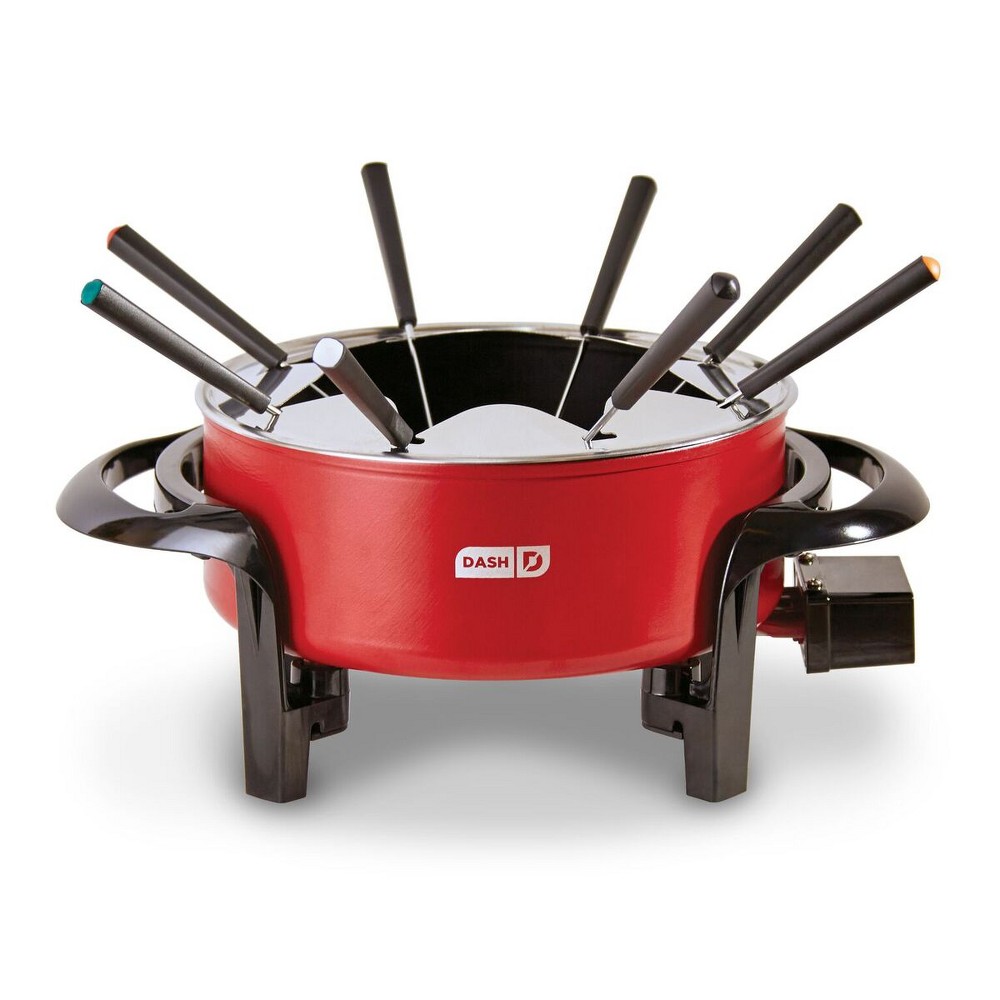 Dash Electric Fondue Set: This is a great alternative as well. It has really great reviews, comes with a recipe book and is dishwasher safe.
What's next?
Once you find the best electric fondue set you might be searching for the perfect heart warming recipe!
For those of you who have a sweet tooth check out this amazing recipe and fondue inspiration here.
We also found a great recipe for the savoury type! Check it out here.
 Fondue-ing tips:
If you are obsessed with Chocolate as much as I am then I strongly suggest getting a higher percentage of cocoa when choosing your bars.  I personally love dark, dark chocolate – like 90% dark but if you're not quite accustom to the bitterness of 90% dark chocolate try to stay above 75%.  You're fondue experience will be be over the top if you choose quality.
If you're attempting the cheese fondue recipe above –  my tip is to do exactly what Martha says!
A Valentine's Day That's Sure To Please
We hope including the Trudeau Electric Fondue Set helps you accomplish your Valentine's Day party, romantic date or perhaps an awesome gift for that special someone!
If you need help to source anything in particular just mention in the comments below and we'll be happy to help!
Please follow and like us: